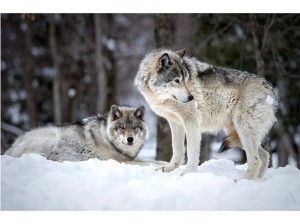 February 13th – 20th, 2016
The Brother Wolf Foundation is teaming up with Teaching Drum Outdoor School and the Timber Wolf Information Network to offer the Northwoods Wolf Tracking Intensive!  Join us as we spend a full week in the heart of wolf territory located in the Chequamegon-Nicolet National Forest. Participants will learn how to track a wolf pack, read rendezvous and kill sites, and the personality of a wolf by the tracks and signs left behind.
Participants in the I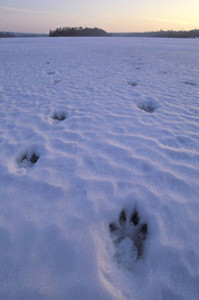 ntensive will learn:
– Basic and advanced tracking in snow
– Wolf pack structure and dynamics
– Wolf territory and configurations
– Wolf mating behavior
– Hunting patterns and strategies
– Wolf genetics, ecology, and relationships
– Northwoods geomorphology and ecology related to        Wolf prey
The first day and a half (Saturday morning through Sunday afternoon) will be spent learning wolf ecology and tracking with the Timber Wolf Information Network at Treehaven, which is owned by the University of Wisconsin-Stevens Point, College of Natural Resources, located in Tomahawk, Wisconsin. Lodging will be provided. On Sunday afternoon, participants will arrive at Teaching Drum Outdoor School, located one hour north of Treehaven in the Chequamegon-Nicolet National Forest, where they will spend the rest of the week out in the field with expert trackers. Transportation between sites will be provided for those who do not have a vehicle. Presentations and lodging will be located at Teaching Drum's campus. Each evening, there will be plenty of time to discuss the day's adventures and to get to know one another. Overnight camping in the Chequamegon-Nicolet National Forest is an option.
INSTRUCTORS


Tamarack Song
Tamarack is the founder of Teaching Drum Outdoor School and the Brother Wolf Foundation, as well as an award-winning author of several books about native lifeway and traditions, emotional healing, nature, and wilderness survival skills, including Entering the Mind of the Tracker. Much of the knowledge he shares in his writings comes from life experiences such as living with a pack of wolves in his early adulthood and his adventures studying the world's aboriginal peoples, apprenticing with Elders, and learning traditional hunter-gatherer survival skills.
Abel (Ch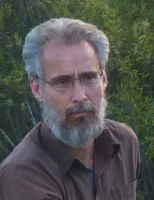 ris) Bean
Abel is a professional-level wilderness tracker with 15 years of experience at Teaching Drum Outdoor School. Since completing his first year-long Wilderness Guide Program at Teaching Drum in 2001, Abel has received advanced training from Tamarack Song, working alongside him in guiding the Wilderness Guide and Wild Moon Programs, and the Guardian Intensive Field Trainings. His instructing capabilities in hunter-gather and personal development skills have earned him Master Guide credentials.
Local Wolf Experts
– Instructors from the Timber Wolf Information Network
– Adrian Wydeven, wolf biologist, former head of the DNR Wolf Recovery Program, and current head of the Timber Wolf Alliance at Northland College.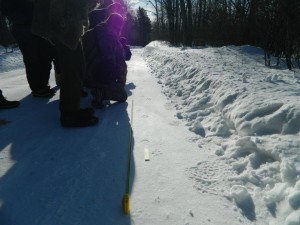 COURSE INFORMATION
Dates: February 13 – 20, 2016
Locations
February 13th – 14th until noon:
Treehaven, located at W2540 Pickerel Creek Road ~ Tomahawk, Wisconsin 54487
Transportation from Treehaven to Teaching Drum will be provided for those without vehicles. 
February 14th – 20th:
Teaching Drum Outdoor School
located at 7124 Military Road ~ Three Lakes, Wisconsin 54562
Tuition: $850 (includes lodging and meals)
Tuition rates may be reduced depending on lodging. Please see Lodging Options below for more information.
Registration Deadline: February 5, 2016.
Reserve your spot with a $200 deposit before February 5, 2016.
Don't register twice! The Wolf Ecology Workshop taught by the Timber Wolf Information Network at Treehaven is a separate course that is also offered to the public. We have already accounted for the course cost in the $850 tuition price for the Northwoods Wolf Tracking Intensive. You only need to register once with us and we will take care of the rest. 
Lodging Options
TREEHAVEN (the night of February 13th only): Treehaven Living Center offers clean, modern lodging with beds, and private bathrooms. Linens and towels are also provided. Those who do not need lodging or prefer to find their own, will receive a $50 discount off tuition.
TEACHING DRUM OUTDOOR SCHOOL (Februrary 14th – 20th): Teaching Drum is an outdoor school focusing primarily on nature immersion and wilderness skills training. Therefore, our accommodations are more rustic than a hotel, though still quite comfortable. We offer rustic but warm sleeping accommodations featuring heat from wood-burning stoves, electricity, internet, and outdoor facilities which include an outdoor heated shower. Participants should plan to bring their own sleeping mats/sleeping bags and pillows (mattresses can be made available if needed). Meals will include Paleo-based meals featuring fresh organic fruits and vegetables, wild rice, nuts, and wild-caught fish/wild meat.
CAMPING: Participants who choose to camp in the Chequamegon-Nicolet National Forest in lieu of staying in one of Teaching Drum's rustic cabins will receive a $50 tuition discount.
HOTEL: Participants who prefer a hotel in lieu of staying in one of Teaching Drum's rustic cabins will receive a tuition discount. Let us know if you'd like recommendations for lodging in the Three Lakes/Eagle River area. 
We are happy to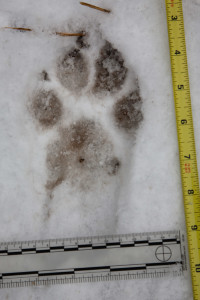 assist participants with transportation to and from Rhinelander (Wisconsin) Airport (RHI) and Iron River (Michigan) bus station for a fee. You may also rent a car or take a taxi from other locations.
For questions or to request a registration application, please email Odemakwa@teachingdrum.org or call Makwa or Jules at (715) 546-2944.