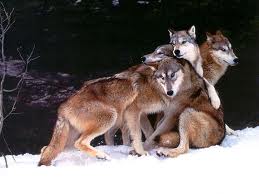 The Brother Wolf Foundation is located in the Northwoods of Wisconsin and is a Wolf educational center and the future site of a sanctuary for unwanted domesticated Wolves. The sanctuary will work to provide a natural home for Wolves who are no longer able to live in the wild, as well as renew awareness of the ancient Wolf-Human relationship.
The purpose of the Foundation is to honor our unique and sacred kinship with Wolf. According to the legends of the Ojibwe people of the Upper Great Lakes region, this kinship has existed since the dawn of creation. It is so close that the destinies of both species are inextricably intertwined. "As goes the fate and fortune of Wolf, so goes the fate and fortune of Man," says one of the legends. This profound relationship is a metaphor for our kinship with all of life.
As with all nonprofit ventures that originate in the heart, we are excited to begin the process of transforming this dream into reality. Our organization is donor supported and run by volunteer staff. All donations are tax deductible, and anyone who has a heart to support the renewal of the ancient Wolf-Human relationship here in the Northwoods is welcome to join us.
If you want to find out more about why the Brother Wolf Foundation was created, read Tamarack's story. Tamarack Song is the founder of the Foundation as well as the Director at Teaching Drum Outdoor School.
If you would like to get involved, contact us. We'd love to hear from you!